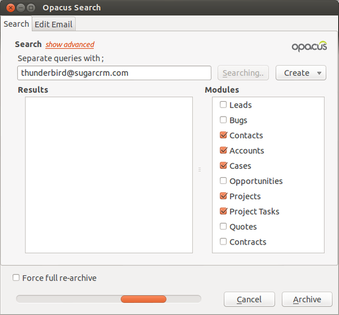 SugarCRM Thunderbird Extension Professional (Annual License)
Professional version of the Opacus Thunderbird Extension. The product is a license for a single user for a year - for multiple users please update the quantity.
Please Note: New Version
We have released a new version of the Thunderbird extension for users of SugarCRM systems at version 6.2 and above. During the checkout process, please select your SugarCRM version and you will automatically receive an activation key for the correct version.
For reference, the versions can be found here:
New version for 6.2 and above

Older version for 6.1 and below





You will need to uninstall the older version and clear out any synced addressbooks prior to installing the new version. There are several enhancements to the search and creation of objects in the update.
Contact us
to find out more about this product