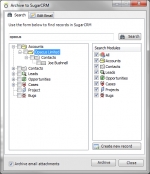 SugarCRM Outlook Plugin (Single User - Annual Licence)


The new generation of Outlook plug-ins for SugarCRM is finally here! The Opacus Professional Outlook SugarCRM Plug-in has features, such as :
Compatibility with SugarCRM Version 9.0 and above (compatibility matrix)
Compatible with Outlook 2007, 2010, 2013, 2016 and 2019 (compatibility matrix)
Auto archive incoming emails
Auto archive outgoing emails
Supports multiple languages
Automatic lookup on email address
Quick link view to SugarCRM record
Archive emails to custom modules
Create Sugar Objects (i.e. Cases, Contacts etc.) from within Outlook
LDAP Authentication
Find related records from search results
Search Sugar for related records
Archive multiple emails to multiple Sugar objects

Auto archive case emails
Synchronise tasks, calls and meetings from both Outlook and SugarCRM
Limit the amount of activities you wish to Synchronise
Synchronise contacts from both Outlook and SugarCRM
2 way Synchronisation conflict resolution
Opacus UK Technical Email Support
SugarCRM address book inside Outlook
Mass archive multiple emails to multiple leads/contacts
Limit auto archiving to a specific folder inside Outlook
Manage which email addresses get auto archived
and much more. Easy to configure and a breeze to use, you'll wonder how you ever coped without it!
Please select how many licenses you would like to purchase...
Contact us
to find out more about this product